How to make MENTSUYU (Recipe)めんつゆの作り方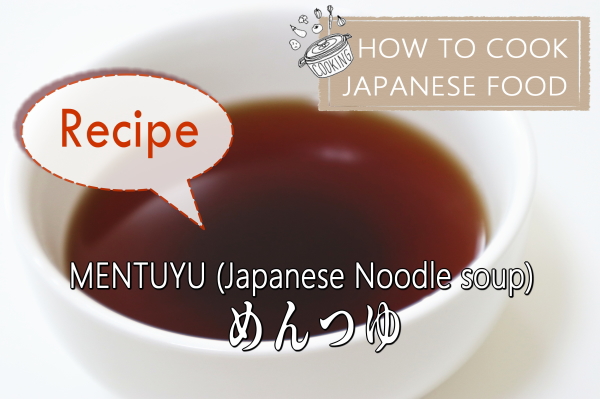 "Mentuyu" is one of the indispensable items in Japanese cuisine.
Just knowing how to make it will widen the variations of Japanese cuisine.
How to make mentsuyu [noodle soup base]Japanese cooking easy recipes
[Mentsuyu recipes]
● Water 100cc
● Mirin 20g
● Soy sauce 20g
● Dashi stock 4g
● If you mix the four, put on the fire.
When it boils, stop the fire and it's ready.
*Depending on the manufacturer, the seasoning may taste slightly thicker or thinner, so please adjust it to your liking.
Dilute it, so please use it.
【Japanese food that can be made with Mentsuyu】
・Udon soup (hot / cold)
・Soba soup (hot / cold)
・Tempura soup
・Tendon sauce
・Katsudon soup
・Oyakodon soup
・Beef bowl soup
・Boiled meat and potatoes
・Fried vegetables
・Grilled ginger
・Teriyaki fish
・Fried vegetables
・cold tofu
・Natto
・Porridge
・Zoni
・cooked rice
・Nabe
・Kinpira burdock
etc...
Below is Japanese.
めんつゆの作り方
「めんつゆ」は日本の料理では欠かせないモノの一つです。
作り方を知っているだけで日本料理のバリエーションが広がるでしょう。
【めんつゆのレシピs】
●水 100cc
●みりん 20g
●醤油 20g
●だしの素 4g
●の4つを混ぜたら火にかけます。
沸騰したら火を止めて出来上がりです。
*調味料はメーカーにより味が若干濃くなったり薄くなったりする場合がありますので、お好みで調整してください。
味が濃いので薄めて使ってください。
【めんつゆで作れる日本料理】
・うどんスープ(温・冷)
・蕎麦スープ(温・冷)
・天ぷらのつゆ
・天丼のたれ(天つゆ)
・かつ丼のつゆ
・親子丼のつゆ
・牛丼のつゆ
・肉じゃがなど煮物
・野菜炒め
・生姜焼き
・魚の照り焼き
・野菜炒め
・冷奴
・納豆
・雑炊
・雑煮
・炊き込みご飯
・鍋
・きんぴらごぼう
などなど